2018 Linz Marathon
At bet-at-home.com, our staff members don't just give their all at work, but also when it comes to sports. More than 20 staff members proved this with impressive performances at the Linz Marathon on April 15.
More than 20,000 people participated in what is the most important running event in Upper Austria. Tens of thousands of spectators and perfect weather conditions made this a spectacular event.
Great performances
Some of our running enthusiasts have shown what they've got for years in the various competitions of the Linz Marathon, and this year was no exception.
The fastest one in our internal competition was Kamil Hlavna (marathon), who finished in just a little over four hours. Other top performances were delivered by Daniel Gruber in the half marathon (1:40 hours) and Stefan Hirschhofer in the quarter marathon (42 minutes).
We also congratulate our relay runners (Barbara Hamberger, Samuel Prammer, Alexander Aigner and Reinhold Spindler), who finished in 4:02 hours.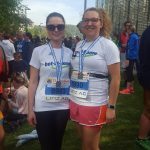 Of course, we would also like to congratulate all the other finishers on their exceptional performances.
The next running events
"The sports activities supported by us do not just have health benefits, they also strengthen the team spirit. This is very important to us, so we are happy that so many participate", said Silke Gruber, the head of the HR department.
The Linz Marathon was the first highlight of the year 2018. We will also participate in the 3-Brückenlauf, the WKO Business Run and the City Night Run.
If you want to know what we're up to this year when we're not out running, click here. Besides, we are always looking for motivated, ambitious new members with an interest in sports. You can find all our current vacancies under "Jobs".