Internships
You enjoy sports and betting and are interested in the underlying IT infrastructure?
Are you looking for practical experience in a field that is shaping the future of entertainment?
Then an internship at bet-at-home in Linz is just the right choice for you!
Over the course of at least four weeks, you can gain work-related experience at one of Europe's largest online betting providers.
As an intern at bet-at-home:
You are not so much into quick & dirty, but are a performer and value achieving the best possible results.
You carry out your work in a clean, fast manner and with a sense of having given 100%.
You are responsible and work meticulously.
Your English skills make it possible for you to use them daily in conversations and for documentation purposes.
You take on challenging project work and keep a cool head.
As part of our team:
You count from day one. We don't do things by halves and treat you as an equal to everyone else.
You're never alone, but you're independent. We work in offices staffed by up to six people, but we focus on our work autonomously and get it done proactively.
You work on a technologically interesting project that – insofar as possible – is tailored to you and your skills.
You will not be sitting around killing time.
You are not afraid to roll up your sleeves and get stuck in. To balance things out, that after-work beer can easily turn into two.
Mentor Program:
With us, you won't be thrown in at the deep end. From the first day, you will be assigned a mentor. How long you want to have this mentor by your side is up to you.
In addition to individual training, we attach great importance to ensuring the further development of our employees – including YOU.
Internship over – what now?
Many of our interns come back to us after an internship. They either complete another internship or join the company as part-time employees. A master's thesis and full-time employment are also possible.

And because life doesn't always follow a linear path, your career path doesn't have to either: You have a say in what your path at bet-at-home should look like. We offer you a wide range of development and specialization opportunities – from full stack developer to expert, (almost) anything is possible.
Do you have any questions about this trainee programme?
I look forward to hearing from you on +43 5 7337 2115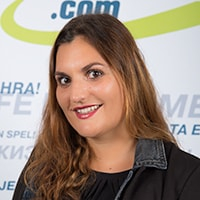 Mag. Katja Buchner
Recruitment & Selection
Do you have any questions about this trainee programme?
I look forward to hearing from you on +43 5 7337 2115
Mag. Katja Buchner
Recruitment & Selection